News and Events.
News of upcoming events and special programs will be listed on this page. Be sure to check here for updates, especially during the riding/ driving season.

We will occasionally list items for sale on this page, also. Full information can be gotten by using our email service on the Contact Us page.

We also appreciate your feedback about our website, using the Contact Us feature.
Points of Interest
News
Events on the Foxbrier Calendar

March 3...........Foxbrier Featured in Laurens County Conservation Seminar

March 26.........Carolina Carriage Club Spring Advanced Driving Training

April 23 - 24....S. C. Association of Naturalists Field Trip

May 14............Upstate Forever Field Trip

October TBA..Carolina Carriage Club Big Weekend
Final 82 Acres Put into an Easement!
In late October 2009, we put the final 82 acres of Foxbrier into a conservation easement. As with the previous acreages, this easement will be held by the Upper Savannah Land Trust.
This portion of the property will protect the vital Little River watershed at its source, insuring the pristine quality of this vital resource for all time.
With this action, all 940 acres of Foxbrier Farm are conserved in perpetuity under an easement.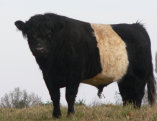 New Beltie Bull
The Belted Galloway herd now has its own bull with the addition of "James," a registered beltie from the herd at Craigland Farms. James was busy over last summer keeping the girls happy.
Spring should be interesting around here as we welcome the new beltie calf crop to Foxbrier Farm.