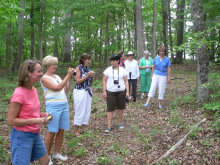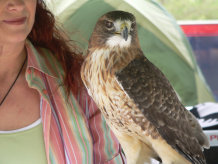 Educational Activities
Points of Interest
In 2008, we featured the release on one of our ponds of a rehabilitated Great Blue Heron and the display of a Red-Tailed Hawk and other wild creatures that are federally licensed as educational animals by PAWS, a local wildlife group.
The future for outdoor education at Foxbrier includes plans for a building to display natural history items along with classroom/laboratory space.

A self-guided nature trail with explanatory labels on prominent trees, shrubs, rocks, etc. will be nearby.
For decades, Foxbrier has provided outdoor education experiences to teachers and students in the Laurens County School Districts and to students of nearby Presbyterian College. We have also catered to the field trip needs of the Laurens County Birders, the Greenville Chapter of Audubon, and the Carolina Bird Club in past years. Troubled teens from the Piedmont Wilderness Institute have done turtle studies in the ponds here, and Foxbrier personnel have taught ornithology in a community education program.

Public school students have visited Foxbrier to learn about the workings of a farm. Many have seen chickens, cows, horses, goats, pigs, llamas, turkeys, ducks, and the like "up close and personal" for the first time in their lives. Some even gained the realization that eggs don't really come from cardboard cartons.

Outdoor education for local teachers has become a summertime staple at Foxbrier, and, in line with our conservation easement, we are entering into a more formal relationship with District 55 for teacher training. In addition to the regular nature hikes, we try to give meaningful demonstrations of conservation in action.