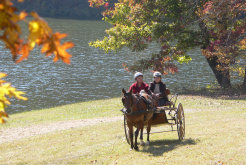 For 40 years, the old logging roads and access roads of Foxbrier have attracted riders and hikers. Beginning in 2002, we made a renewed effort to expand this trail system year-by-year. With the purchase of additional property across Horsetail Creek in 2005, we built a bridge and three causeways as well as several more miles of trails.

Today, Foxbrier has over 15 miles of trails available to carts, carriages, horseback riders, and hikers. Additional miles of horseback and hiking trails wind along the creeks. Most trails wander through old hardwood stands and along watercourses. Deer, turkey, ducks, geese, and other wildlife abound.

The beauty and quality of the trail system makes it a lure to equestrian groups—particularly driving clubs—who have trouble finding adequate trail facilities in western North and South Carolina. Many organized driving and riding groups have equestrian outings here during warmer months, finding the ease of access, good trailer parking, beautiful trails, standardized rings, and other accommodations to their liking.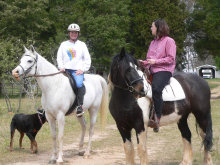 Equestrian Events
Foxbrier's equestrian trails are available to organized groups having full liability insurance. The Carolina Carriage Club holds two to three events at Foxbrier each year, and other organized groups use the facilities.
Points of Interest
In 2008, we expanded the driving ring to the large standard 40 X 100 meter size. A picnic shelter was added near the trailer parking area beside the first pond for riding/driving guests to use for lunch breaks. We have begun work on cones and obstacle courses, also. All trails are clearly marked and trail maps are provided.
The trails of Foxbrier are not available to motorcycles, ATVs, and other off-road vehicles.